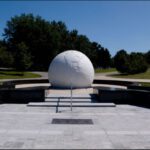 Welcome to the official website of the World War II Illinois Veterans Memorial located in the Oak Ridge Cemetery, Springfield, Illinois. Here you will find information about the Memorial, stories submitted by Illinois veterans of World War II, how to have commemorative bricks installed within the WWII Memorial, and ways to support the projects and efforts and special projects of the WWII Illinois Veterans Memorial Association.
The Memorial Association was founded in 1999 and in 2000 was chartered as a not-for-profit organization (501-c 3). The Memorial was constructed to honor the 987,000 men and women from the State of Illinois who served our country during World War II and the 22,000 Illinois veterans who made the ultimate sacrifice in pursuit of liberty.
The WWII Illinois Veterans Memorial was officially dedicated on December 4, 2004 and will be celebrating its 10 Year Anniversary this year on December 6, 2014.
The Memorial Association extends an open invitation to Illinois Veterans of World War II and their families to submit wartime experiences and have them included on the WWII Memorial website Veterans Stories archived on this website.